Five Best 65W-70W Chargers That Can Fast-Charge Your Multiple Devices Together
Some brands may try to remove it from the box of their devices, but trusty battery chargers continue to be an integral part of many device packages. You usually get a charger with your smartphone. Even a notebook or tablet. While this is convenient, it also means tangled chargers and cables everywhere you go. The USB Type C port is the charging port for most smartphones (the iPhone being the only notable exception), tablets, and notebooks, so the need for different cables is fading away. , various chargers continue to clutter tech-laden backpacks. This is because all too often the charger that comes with your smartphone is not enough to charge your notebook or tablet, and vice versa.
If you carry multiple devices, you can avoid the burden and hassle of carrying different chargers and simply choose one third-party charger that can charge all three devices. There are a lot of super fast chargers on the market with charging speeds reaching triple digits, but at the time of writing there are not many devices that support charging above 100W, so I prefer to use chargers in the 65W to 70W range. It is recommended. A 65W-70W charger can charge a number of smartphones as well as laptops and tablets at decent speeds. For notebooks, the charging speed is of course relatively slow. A 65W to 70W charger sits somewhere between super fast charging and moderately fast charging and will work with most devices.
There are a few things to keep in mind before choosing a third party charger. The most important thing to keep in mind is whether these chargers are compatible with your device. Also check if your device supports the charging speeds of these chargers. A phone that tops out at 33W will only charge at that rate even when connected to a 67W charger. Be especially careful with proprietary charging technology. Chargers that support Dart Charge or Warp Charge may charge faster, but may not work well with other devices. Finally, keep in mind that if your charger has multiple ports, they won't all provide maximum power output at the same time. So a 65W charger with two ports might provide 45W from one and 20W from the other if devices are connected to both. port at the same time.
So here are 5 super 65W and 67W chargers you can invest in to keep all your devices charging at decent speeds.
Stuffcool Neo 67W Dual Type-C Port GAN Charger: Ultra Compact Charger for Flagships

Perhaps the most compact charger on this list, Syuffcool's Neo 67W is actually small enough to fit in a coat pocket. Still, it has enough power to charge an M2 MacBook Pro or MacBook Air up to 50% in about 30 minutes. Also on board is support for 45W charging for the Samsung S22 Ultra. It comes with two charging ports (both USB Type C). 67W charging speed is supported when using one port. However, if you connect two devices at the same time, one will charge at a maximum of 47W and the other at 20W. You get auto-sensing IC protection. This is for people who have flagships and want to save space.
Price: Rs 4,499
Belkin 65W GAN Dual USB C Fast Charger: Solid Performer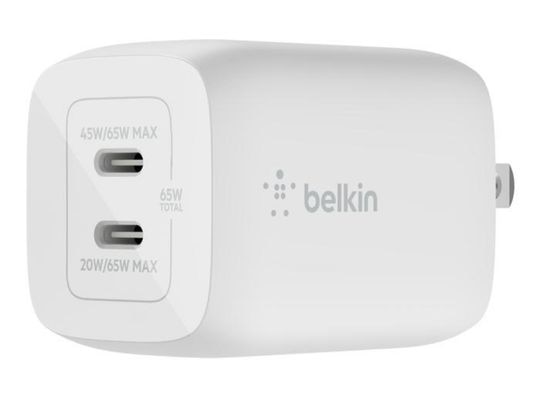 Belkin holds a special place in the gadget accessories arena due to the brand's reputation for highly reliable products. A 65W fast charger fits perfectly. You get a very sturdily built, slightly overlong charger with dual USB Type C ports. The max speed from either port is 65W, but if you plug a device into both ports, you'll get a You can get up to 45W from one and up to 20W from the other. Slightly larger than the Stuffcool Neo 67W, it's considerably more compact and slightly less powerful, but with Belkin's warranty, it could make a big difference for many users.
Price: Rs 4,199
Spigen PE2007 70W GAN Dual Port Rapid Charger: Powerful even when charging 2 devices!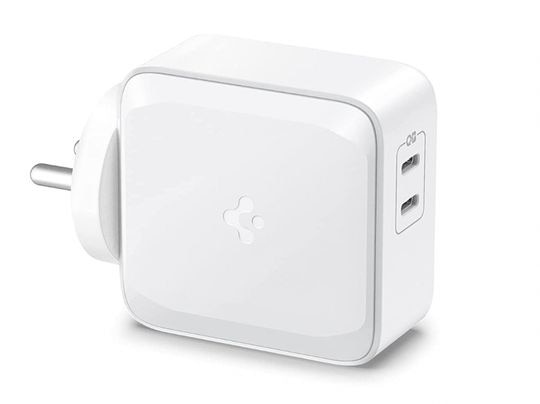 On paper, this might look like the most powerful charger on the list. That's because the Spigen PE 2007 actually charges up to 60W from each of his two USB Type C ports. However, if you connect two devices at the same time, one port will max out at 50W and the other port will charge your device more sparingly if it's still at a brisk 20W. It's the fastest charger on this list when it comes to charging the batteries of two devices simultaneously. It stays relatively cool thanks to the ArcStation technology advertised in.
Price: Rs 2,499
Mi 67W Sonic Charge: 1-port simplicity
If you're the type who prefers to charge one device at a time, this is probably your best option. The Mi 67W charger might work best with Xiaomi's own Sonic Charge device, but it also supports Qualcomm Quick Charge 3.0, making it a good choice for charging other devices very quickly. The fact that the port on the charger is a USB Type A port may be a bit of a disappointment for some, but Xiaomi bundles a Type C to Type A cable with the charger in the box, so you can You can use Type C on almost any device with it — iPhone users will need a different cable than the one in the box. That's because it ends with a Type C connector. The safety and design are solid, and this price is also attractive.
Price: Rs 1,999
Amazon Basics High Power 65W Charger: Affordable Option
A 65W charger usually comes with a price tag well over Rs 2,500. So at Rs 1,999 this is a good deal for those who want a fast charger on a tight budget. This is not the most sophisticated charger in the group but what it offers It has 3 charging ports, 2 USB Type C and 1 USB Type A, and the box also comes with a Type C charging cable. However, the Type A port can only charge at 20W, while the other he two ports can charge up to 65W (if no other devices are connected to the other ports). IC protection technology is available for safety. Despite the wattage, we have to admit it didn't seem as fast as some of the other chargers on this list, but in terms of value for money, this one is phenomenal.
Price: Rs 1,999